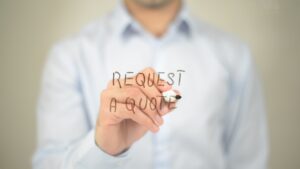 REQUESTS FOR QUOTES
Working within Office 365®, the RFQ process is made much simpler with the ability to easily create, store and send a personalized RFQ to each vendor. Without leaving the RFQ screen, you can then evaluate each vendor according to desired criteria and IPM will generate a score to assist with the selection process.
Once quotes are received from vendors, you can update the RFQ details and with the click of a mouse create a Subcontract, Purchase Order or Subcontract Change Order for the winning vendor from within the RFQ screen. Winning bid information can also be automatically updated to the job budget.

Key Features:

Evaluate new vendors using the RFQ criteria view and ensure the best fit for your projects.

Use IPM RFQ to keep track of your vendors and check their previous jobs and how you rated their work.

Within the RFQ you can create new Subcontract, Purchase Order or Subcontract Variations from the same screen.

Use Workflows to update job budgets when quotes have been accepted.