A recent survey of 260 Australian construction companies highlighted that, other than COVID19, the challenges they face have changed very little in the last few years.
More than two-thirds of companies still rely on paper or spreadsheet based records, even though they recognise the potential to reduce costs significantly with better data capture.
Rework and project overruns still represent the major impediments to productivity, taking up 20% of productive time.
 Improving communication both internally and with sub-contractors also presents a significant opportunity to improve efficiency.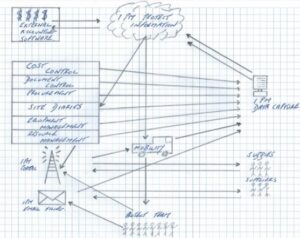 These issues persist despite the proliferation and ongoing improvement of construction management platforms, such as the example in the diagram above.  As you can see, this addresses all of these issues and provides a familiar Microsoft environment for the construction team to operate and store all project information. Importantly, these products are so scalable that they can meet the requirements of the majority of construction and specialty contractors regardless of the size of the business.
IPM Construction Management software is highly configurable, so able to accommodate the process requirements of construction and speciality companies, and once deployed the average monthly cost per user is less than $100 per month.